The common cold, flu, and cough have been grounds for home remedies for generations with parents seeking out the best medicines for their children to ease some of the symptoms. However, these common virus symptoms can vary and don't always respond well to traditional over-the-counter medicines. Hyland's is a great option for an alternative approach to relieving the symptoms of cold, flu, and cough. For over a century, the company has been developing homeopathic products that aim to restore balance in the body, relieving symptoms without artificial additives, while our bodies get a chance to recover.
In the modern world of overwhelmingly accessible information, making an informed decision is both a challenge and more possible than ever. Here, we'll take a look at one of the leaders in the homeopathy space and see how the company is approaching some of the most common problems the human body is bound to face during this winter season: cold viruses, coughing fits, and feverish flu.
Since the early years of Hyland's teething tablets and Hyland's Baby Pink Asprin in the 1900s, to today's Baby Oral Pain Relief Tablets and Leg Cramp Relief, Hyland's has been working to help families for generations.
How The Cold, Flu, and Cough Are Different in Children
One of Hyland's strengths is its broad catalog tailored to specific age groups. The same virus doesn't produce the same symptoms in different bodies. Individual resistances, exposure to previous viruses, and all kinds of other factors come into play. Age is one of these factors.
Not so long ago, the formula for treating both cold and flu viruses was the same: treat the symptoms. Because the symptoms on the surface are similar enough, most people were fine just to take a cold or flu medication or some mixture of both. Today, however, pharmaceutical and homeopathic medicines are a lot smarter. There are targeted differences between how we treat each form of virus, and choosing the right medicine can streamline the recovery process.
The same holds true when it comes to targeting specific age categories. Some ingredients, especially those found in the pharmacy, are not suitable or safe for children. Because Hyland's designs remedies specifically for kids and infants, people don't need to understand the details of those complicated-sounding chemical structures. Instead, they can rest easy knowing that it's made with their little ones in mind.
Cold vs. Flu
Before rushing out and grabbing the first treatment you can find, it will help if you have an idea of what needs to be treated. Here are few cues worth keeping an eye out for:
high fever
severe headache
muscle aches
chills
vomiting
intense fatigue
While some of these symptoms, like severe headaches and fatigue, may appear in severe cold viruses, they are generally good indicators for spotting a flu virus without testing.
Hyland's: A Homeopathic History
Hyland's has been a leader in the homeopathic space for over a century. Providing its first natural medicinal products in 1903, the company has stood the test of time and continues to innovate new solutions to the problems presented by the human body.
While offering medicines that are suitable for the whole family, Hyland's also offers a wide range of products specific to the youngest members. Hyland's Baby Teething Tablets were one of the most popular options available for children, using strictly natural formulas to make that painful period a little bit easier on everyone. And while this product is no longer available, Hyland's continues to develop new means of helping the human body restore balance in a way that focuses on the details. Now, the company offers Hyland's Baby Oral Pain Relief Tablets, which treat everything from gum pain and soreness to irritability caused by oral pain.
The Hyland's Approach to Cold, Flu, and Cough
Hyland's aims to restore balance to the body as quickly and naturally as possible. By being specific in the categories and products it designs, the company provides tailored solutions to similar problems in different bodies.
When it comes to age and size, Hyland's makes three distinctions for cold, flu, and cough related products worth noting:
Baby: 6 months–2 years
Kids: 2–12 years
Adults: 12+ years
These categories are usually listed on the label, and when absent, it means they are suitable either for adults or the whole family.
Cold and Cough Solutions for Children
A cold virus isn't going away in the first eight hours. Hyland's recognizes this and wants to help provide relief for symptoms throughout the full cycle of the day. The company's nighttime formula allows your body to relax, easing some of those symptoms that can ruin a good night's sleep; after all, there's nothing worse than an itching cough at 2:00 in the morning. Hyland's 4 Kids Cold 'n Cough Nighttime will help your child get a good night's sleep – one of the best things your body can do as it's fighting off that nasty cold virus or cough.
The daytime formula, again found in the Hyland's 4 Kids Cold 'n Cough line, is all about relieving symptoms throughout the day so that the body isn't overwhelmed by stress or terribly uncomfortable. Everyone gets colds, but they don't have to be miserable. The Hyland's 4 Kids Cold 'n Cough Day & Night Value Pack aims to give persistent relief throughout the 24-hour cycle.
Hyland's DEFEND Cough and Cough Syrup Formulas
A bad cough won't just ruin your day; it can be enough to cause serious concern in those around you and possibly keep the whole house up at night. Whether it comes while we're sitting in a quiet audience, driving to work, or trying our very best to slip away into a deep sleep, a cough is a hard thing to stop.
And that's the way it should be. Coughing is a reflex, used by the body to keep the lungs and airways clear. When a piece of food gets stuck halfway down the throat or infection is irritating and blocking the airways, the body's natural response is to eject what's getting in the way of business as usual.
Coughs come in acute and chronic varieties. For acute cases, the cough can last anywhere between two and three weeks, and this is typically what accompanies cold viruses, flu, and respiratory infections. Chronic cases, while not always as severe, are how we describe coughs that last longer than a few weeks. Coughs caused by smoking, chronic bronchitis, and throat disorders are some common examples.
The Hyland's approach to relieving cough symptoms is twofold:
Reduce the pain experienced when the throat becomes raw.
Attempt to alleviate some of the irritation that is causing the pain in the first place.
Hyland's DEFEND Cough formula targets both dry and moist coughs at their root. Not intended for colds or other flu viruses, it's produced specifically for battling coughs by giving you relief from symptoms and giving your body some time to recover.
For a more complete offensive, Hyland's DEFEND Cold & Cough, in combination with Hyland's DEFEND Cold & Cough Night, targets a broader spectrum of symptoms and provides relief throughout the 24-hour cycle.
The company also offers two distinct lines for kids and babies. Hyland's Baby Cough syrup is safe for children ages six months and up. They can't tell you what's wrong in words, but a bad cough is usually followed by a good cry, and that's all the signal you need to provide some relief. This formula is made with a natural sweetness, easing the pain while helping it go down without a fuss.
Children are generally wary enough of needles and medicine. Hyland's 4 Kids Cough Syrup, with 100 percent natural honey, is a painless way to ease chest congestion and irritation in the throat without making you look like the bad guy. Another powerful homeopathic remedy from Hyland's, this cough syrup is safe for children 2–12 years old.
Hyland's Sinus and Congestion Relief Products
The Hyland's DEFEND line offers a more thorough attempt at clearing the sinuses. Hyland's DEFEND Sinus formula is aimed at making your nostrils happy, whether by relieving irritation from allergies, clearing up thick congestion, or slowing runny noses. Alternatively, you can opt for Hyland's Sinus formula, which is separate from the DEFEND line but also relies on the body's natural systems for handling congestion and cold symptoms.
Hyland's 4 Kids Sniffles and Sneezes is another approach to relieving sinus troubles. Relying on the cold-shortening ingredient Zincum Gluconium to allay sneezes, runny noses, and painful irritation, this product comes in tablet form – dissolving quickly in the mouth without any drowsy or stimulant side effects.
For the most robust efforts at clearing congestion and battling your cold throughout the night and day, there's another option. Hyland's DEFEND Cold + Mucus is all about opening up the airways. One of the worst things for fighting off a cold is arriving on the scene too late. Mucus can build steadily as we tell ourselves we're fine without medication. We go to work as zombies, then finally give in and seek some help from the symptoms. If you already have a lot of chest, throat, or nasal congestion, Hyland's DEFEND Cold + Mucus can help clear away existing congestion and give your body a chance to heal in comfort.
Hyland's offers a specific product for children fighting tough bouts of congestion. Hyland's 4 Kids Cold n Mucus and Hyland's 4 Kids Cold n Mucus Nighttime are intended for children between the ages of 2 and 12. The nighttime formula naturally relaxes the body throughout the night, breaking down mucus during sleep without any added sedatives – so there's no grogginess in the morning.
For the littlest among us, Hyland's Baby Mucus + Cold Relief Day & Nighttime Value Pack will help relieve congestion in those tiny throats, noses, and chests. The company also offers its Hyland's Baby Mucus + Cold Relief and Hyland's Baby Nighttime Mucus + Cold Relief separately, allowing a little more control during the recovery process.
Hyland's Cold Formulas
Just as Hyland's Baby Teething Tablets set the stage for a more natural approach to a common type of pain, Hyland's has been offering cold symptom relief for much of its history. And included in that lineup are products aimed at those in their first years.
For ages six months to three years, there are Hyland's Baby Tiny Cold Tablets. This helps relieve the sniffles, congestion, and discomfort your baby experiences. Hyland's Baby Nighttime Tiny Cold Syrup formula is a safe way to help everyone get better sleep while your baby is recovering from sickness.
Hyland's Baby Tiny Cold Tablets Day & Nighttime value pack is the full package deal for hitting both of these needs during the 24-hour recover cycle. Plus, it comes in a convenient 250-tablets size, so you can keep it ready through the whole season in case the cold virus strikes again.
For older audiences, Hyland's Cold Tablets with Zinc can potentially offer natural relief of cold symptoms. Zinc is an important mineral. As a high-quality homeopathic remedy, Hyland's Cold Tablets with Zinc take advantage of this natural mineral, giving you fast-acting relief when you need it.
Hyland's Flu Care
If you or someone you care about is heating up and experiencing more severe symptoms like vomiting, nausea, and fatigue, then a more comprehensive flu treatment will be essential to tackle the issue early on. Hyland's Complete Flu Care is unique to the flu treatment scene and safe for the entire family. The company's two-phase approach can help fend off the flu in its early stages or battle those nastier symptoms after they've settled in. Aspirin-free and in line with Hyland's commitment to natural remedies, this is a comprehensive flu-fighting package.
Hyland's DEFEND Severe Cold & Flu is another way to relieve the chills and muscle pain of a bad cold or flu. Delivered as a hot cup of lemon and honey, you can comfortably sip away without leaving the bed. The fluids help your body's recovery, warming you up inside and getting to work on the virus's symptoms immediately.
Hyland's 4 Kids Complete Cold n Flu formula is free from aspirin, acetaminophen, ibuprofen, naproxen, pseudoephedrine, and dextromethorphan. It's a dissolving tablet that helps children recover and get up and out of bed again sooner. It also comes in Hyland's 4 Kids Complete Cold n Flu Liquid form, making it go down a little easier if your child is no big fan of tablets.
The Takeaway
Since hitting the market by storm in 1987 with its popular Hyland's Baby Teething Tablets,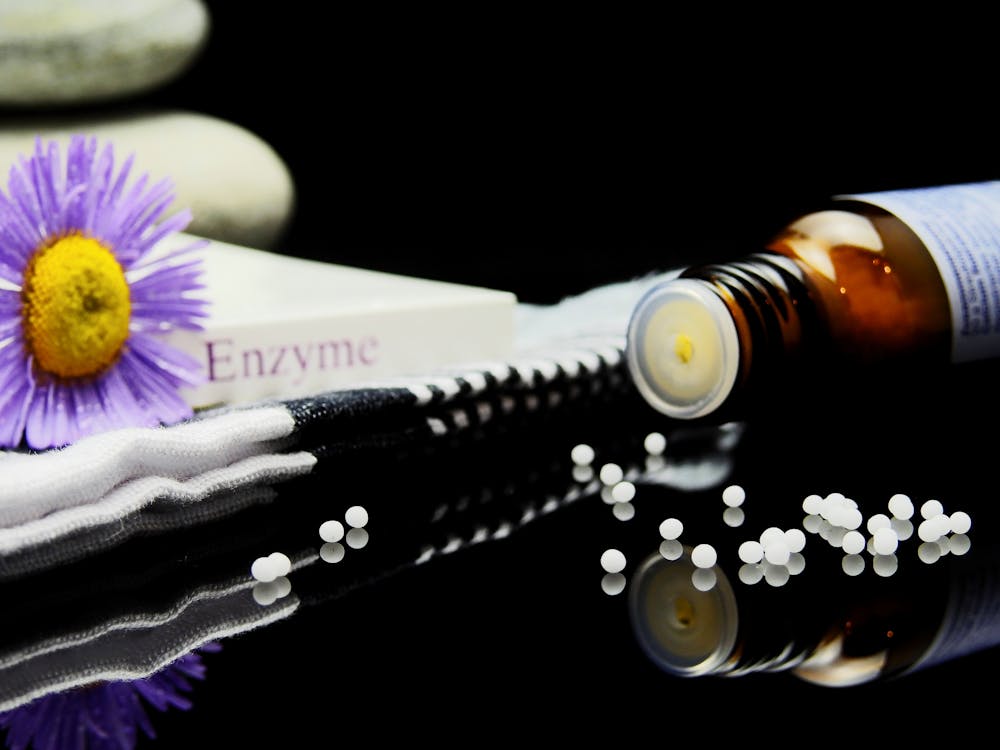 the company has been a leading provider of quality homeopathic solutions to the problems that so often plague the human body. When it comes to cold, cough, and flu season, Hyland's has a remarkable range of natural products for people of all ages.
With all of the concern about the body's response to pharmaceutical intervention and resistance, a homeopathic solution to the common cold is beginning to sound more and more reasonable. That being said, I'm not really one to go out on a limb when it comes to handling my health. Thankfully, well-established names like Hyland's make it easier for us to find safe medicinal alternatives when we want to take care of our bodies in a fast-relieving way.
*Claims for Hyland's products are based on traditional homeopathic practice, not accepted medical evidence. They are not FDA evaluated.